Last Friday Bonnie Hunter revealed the
final layout for "Good Fortune"
, this winter's mystery quilt. I only made a few units each week, and have just joined a few of them into blocks this week.
I still have some green and blue units, but don't have enough units at the moment to make another red/orange block.
I like how the little red squares in the four-patches make a pyramid shape with the orange strings. A pyramid? Well it could even be a pagoda, with a stretch of the imagination. Or perhaps they are all steps on the Great Wall!
In the coming week I shall try to find the time to make a couple more blocks, and turn this into a table runner, or a sewing machine cover.
I enjoyed making this and seeing so many lovely colour schemes in the link-up each week.
I'm linking to: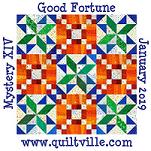 Click on the button to see more Good Fortune progress.
Happy sewing
Marly.