Shall I? Shan't I? I thought when I read the introduction to Bonnie Hunter's mystery for this winter. I really don't have time for another quilt at the moment, but I can't resist a mystery!
The first clue was published on Friday inspired by China (the country, not the fine porcelain!) and features a lot of red. Yesterday afternoon the link up started and an amazing number of people had already made lots of units, and when I say lots I mean more, many more than these:
Fourteen 2.5" four-patches
So this morning I hastily fished in my red and neutral scrap buckets and and whittled some already small scraps down to 1.5" and came to a total of fourteen 4-patches. That's it for this week.
I've decided to follow the clues, making some units each week, and deciding after the reveal how many more I need for my project. I shan't be making a bed quilt - we don't use those here. I like to read Bonnie's clues - they're so informative and I learn a lot - and follow people's progress from week to week.
I'm linking to Quiltville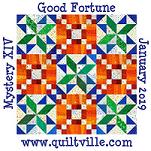 Click on the button to see thousands of mini 4-patches (mostly red!)
Happy sewing
Marly.