Yes,
5!
I have
looked
at 6, and I've even cut a few strings, while straightening edges for the clue 5 pieces. However Christmas week is always extra busy (and I know I'm not the only one) so I haven't got any further with this winter's
Quiltville Mystery Quilt, "Good Fortune"
than making some of last week's pieces. I also made some more of clue 2 as leaders and enders in clue 5. Perhaps that's an advantage of being behind!
15 pieces for clue 5; where's the one that got away?
As I was making these in pairs, one right- and one left-facing, I was very surprised to have one large blue triangle left over. Where did the other pair of triangles get to, I wonder! I'm not about to move the furniture to look for it now, so that's all of clue 5 for the moment.
As to clue 6, I'm happy that Bonnie gave the option to make the pieces from strings as I'm very low on neutral fabric, but I do have a bag dedicated to the off- cuts from straightening fabric before I start cutting for regular patchwork. I should be able to fill at least one telephone-book page from there, I hope before Friday.
I'm linking to: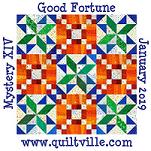 So click on the button to see how other's have made clue 6 pieces.
I wish everyone all the best in 2019, especially
Happy sewing
Marly.