Last Friday Bonnie Hunter posted
clue 3 of this year's Quiltville mystery, "Good Fortune".
This involved making lots of rectangles with folded corners and their bonus HSTs.
24 "bonus" HSTs
from:
12 parallelograms
As in the two previous clues I only made a slight fraction of the number given in the pattern.
I found it very time consuming sewing just to the side of the drawn lines on the squares. I tried to sew with the left-hand inside edge of the presser foot just touching the left-hand side of the line. I found myself being mesmerised by the motion of the needle resulting in a wobbly line. Of the first batch I had to unpick some of the stitching as the lines had wobbled too close together. The next phase is cutting three-eighths of an inch from the line between the lines. That's why not wobbling is so important! (If that is confusing check out Bonnie's instructions in
clue 3
.)
I see in the link-up that there are bloggers there who have already finished this clue completely. At this rate I wouldn't be finished before the end of the year! It's not a problem, I'll just plod on fitting this in when I can and working on each new clue as it's published each week.
I'm linking to: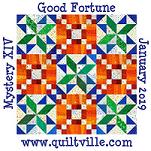 Click on the button to join the link-up.
Happy sewing
Marly.