24 orange string blocks as specified in clue 4 of Bonnie Hunter's mystery quilt,
"Good Fortune"
. Well, actually Bonnie specified more than 24, but I'm just not able to spend so much time on the mystery this year.
24 string blocks
Once I'd cut the strings it didn't take much time, and as I still have plenty of strings there are more rectangles to come.
I'm linking up to the Monday link-up (on Wednesday!) at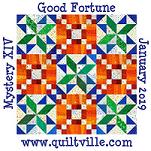 Happy Sewing
Marly.